Fusion IO Memory Cards
What is an IO Accelerator?
The IO Accelerator is an PCIe card-based, advanced storage device that uses solid state storage technology directly on the PCI bus, assuring high read and write data rates and accelerated application performance. The associated application performance improvements will have a positive impact on business results and the ability to accelerate IO-bound workloads like databases, virtualization and data analytics, resulting in significant cost and time savings.
Single Level Cell and Multilevel Cell NAND technology uses flash memory cells to store data. Single level Cell (SLC) stores one bit per cell, while Multi-level Cell (MLC) uses two bits per cell. While MLC can store more data within each device, it has lower endurance characteristics than SLC. IO and Read/Write Performance HP PCIe IO Accelerators offer superior IO performance up to 892,000 READ IOPS and 935,000 WRITE IOPS, and high throughput up to 3.0 GB/s READ and up to 2.5 GB/s WRITE. Latency HP PCIe IO Accelerators offer very low latency access to data, as low as 15 microseconds to write a 4K block and as low as 68 microseconds to read a 4K block.
In other words, a virtually zero seek time compared to rotating magnetic media. RAM Requirements The amount of free RAM required by the driver depends on the size of the blocks used when writing to the drive. The smaller the blocks, the more RAM required.
The Fusion-io® ioDrive2™ memory tier is a NAND flash-based extension of the server memory hierarchy that offers persistent RAM-like performance with disk drive-like capacities, all at a fraction of the cost of conventional RAM or storage area network (SAN) solutions.
3–10X infrastructure consolidation — Slash infrastructure expenditures, maintenance overhead, power and cooling costs.
3–10X application performance — Eliminate I/O (input/output) bottlenecks to dramatically accelerate applications and databases.
Enterprise reliability — Get advanced error checking and correction (ECC), N+1 chip-level parity, long life/predictable wear out, no volatile digital RAM (DRAM).
The Fusion ioMemory platform accelerates enterprise applications such as databases, virtualization, cloud computing, big data by integrating hardware and software to overcome the limitations of legacy architectures and specialized hardware.

As with all of our used and refurbished equipment, everything is fully tested using the manufacturers diagnostic and sold with our 12 months warranty and telephone support. If you do not see the refurbished equipment that you need then get in touch with us and we will make it our point to find it for you.
Figure 1: A sample representation of a Fusion IO card; parts we stock at Tekmart Africa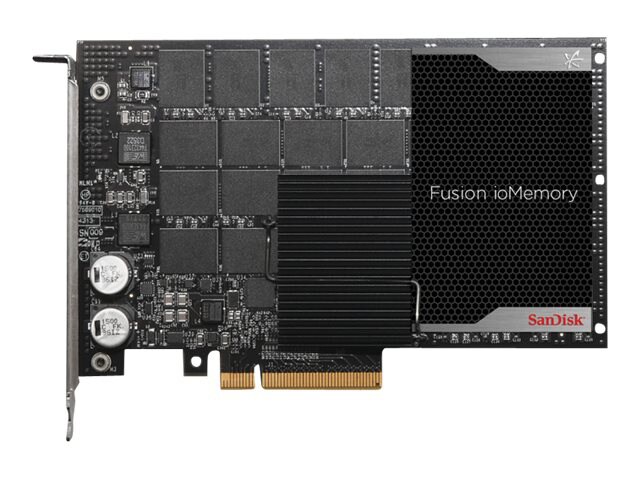 Best Sellers - Fusion IO Memory Cards